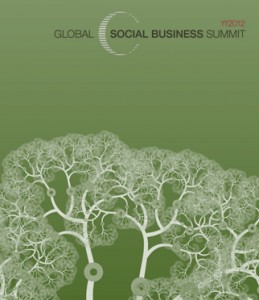 From November 8th – 10th, the fourth Global Social Business Summit (organized by the Grameen Creative Labs) will take place in Vienna. Over two and a half days hundreds of participants are expected; social entrepreneurs as well as representatives from governments, cities, corporations and the academic field will exchange ideas about how social problems can be solved by a non-profit-oriented but still economically sustainable business. We are proud to be part of this trendsetting and innovative summit.
Inge Patsch and Susanne Katzlberger will present the business idea of Monon e.U. at our own booth. We hope to establish first contact with future project partners, customers as well as interested investors. Additionally, we are looking forward to getting feedback and inspiration to refine our concepts. Folders and flyers which explain both the corporate strategy of Monon e.U. as well as the projects, will be available on Friday between 11am and 4pm, and shortly also here on the website.
We are looking forward to meeting you there and wish all participants a fruitful and interesting summit.