As with so many concept in the world, also Social Business is a term which can have multiple meanings dependent on the context of the person, who uses it. I've realized that first time during a conversation with an American impact investor from the Wallstreet. He explained me with firm conviction that what we do in Jumla is cute but can not be considered a real business. The solution to problems can never like in small and medium sized businesses but social businesses need to be scaled to big businesses as this is the only way an economy can grow and strive.
The more meetings I had with professionals from "the same field" the more i realized that while with half of the people, I could connect and find a joint language, with the other half  there was this feeling that even though we both talked about social business, we still meant something different. Also, while some of the books about social business I read where a deep source of inspiration, some others left me with the feeling of only scratching the surface and somehow missing out the crucial point (even though I could not name, what it was).
This contradiction of being a promoter of social business on the one hand and yet, having the feeling I have to disagree with several rather popular books and speeches about social business and social entrepreneurship was a riddle I was dwellling upon for several years.
Last week I came across an interview with Rainer Mausfeld before working on my upcoming lecture in Kufstein, which made gave the the decisive impulse for an answer to this question: In the context of Social Business we have to major schools of thought, who both use the same term.
The first school of theory I want to call the neo-liberal view on Social Business. Advocates of this school do promote the idea, that (all) our problems in human interaction can be solved if we only find the right business model for it and that if the right people just think hard enough, there is a business model for everything. For them commercial organizations (in contrast to community activities, non-profit-organzations or the government) can not only be the means to take care about the distribution of commodities but also serve the variety of social services required in a society. They are very strong embedded in a neo-liberal world-view and use many of the key words typical for investment such as scaling impact or leveraging businesses. The idea, that growth is essential for the wellbeing of a society (even though there is no empiric evidene to such as claim) is central and unquestioned. Representatives are Michael Porter with his concept of shared value  but also Professor Yunus. The latter one also coined the term social business and was my personal inspiration to deal closer with the topic of social business.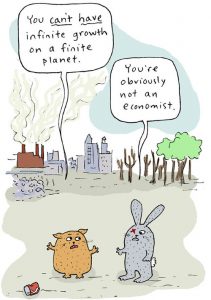 The other school of though I want to name transformative school. Those are advocates, who claim, that we have to rethink our economy as a whole and transform the way how (social) business is transforming the way how our society interacts with environment as well as how humans are treated in the system of production of our daily goods. Key words used by this group is transformation, human centered design and they share a healthy sceptisism of growth. Among the promoters of that school are authors like Rob Hopkins from the transition network, Christian Felber from the economy of the common good or economy and Manfred Max-Neef.
I'm myself am committed to the second school of thought. Not only have I been convinced by the concepts introduced by the economists mentioned above, but also by books like poor economics, who showed that social business can be powerful but also has its limitations. For some problems in society bringing them in the market might be the solution, yet for some other it seems better to strengthen the community or the interventions of the state. A thought which is also promoted by thinkers like Amartya Sen, who has in development as freedom clearly shown, that looking at the economic capabilities of people alone, does not suffice for improving well-being. A sceptisms on the dominant financial system and growth inevitable arose in my, after listening to macro-economists such as Bernd Senf, who show clearly how our current financial system with interest rates is creating inequalities on a global as well as a local scale which in turn are aggrevating social problems. The most convincing argument for me though was the argument from natural sciences: there are not enough ressources for infinite growth. As economic growth is not possible (or at least highly unlikely) without increased use of ressources on the one hand while we already now have to "celebrate" earth overshoot day on August 2nd, it is clear to me: growth can not be the solution. John C. Ayers has devled into the topic of sustainability with a lot of love for detail and depth and published the book Sustainability: an evironmental perspective, which I would call a must read for everybody, who claims to be sustainable.
Yet, representatives of the first view tend to vilify representatives from the transformative school as dreamers and mollycoddlers, who are just not strong enough to face the world. I too (avowing myself to belong to the transformative school) have experienced to be belittled for ideas, which do not match the impact investment world. Having reached to this understanding of two different discourses in which the concept of social business is not only helping me to not fall in the trap of feeling misplaced in the social business world anymore, but more importantly helps me structuring my thoughts and concepts better so to adopt my arguments and language to the target audience I talk to more easily.
Awarness about these two schools does not only help to avoid misunderstandings while having a conversation about social business. For me it can also be part of the solution as well. Even though most approaches of neo-liberal representatives are having blind spots in critical areas I still can see their role in drawing the attention of the populace towards the social and ecological problems of our time. Vanguards of the transformative school, no matter if their claims are proven with facts, are often not speaking the laguage of those, whom they want to reach and are therefore often vilified by journalists and representatives from politics and economy alike. Yet the neo-liberal school of thought is still speaking the language which those economists and opinion leaders have learned in school and fits therefore in their world view. Reading Mohammed Yunus creating a fworld without poverty removes the scales from their eyes that the current system is not benefiting all and with a bit of luck, some of them continue reading and start reflecting on the question how the current system can solve our problems. I believe and hope that in hindsight acknowledge that some thoughts of not as unjustified or ridiculous as they thought before.